Okay, so I know it's been a while since my last review. Life gets in the way sometimes. Anyway, today's review is on a local restaurant called Avenue Thai and Sushi in Winter Park, FL. Nate and I got a groupon deal for this place and since I'm always in the mood for sushi, we decided to try it out. We were not disappointed! So without further adieu...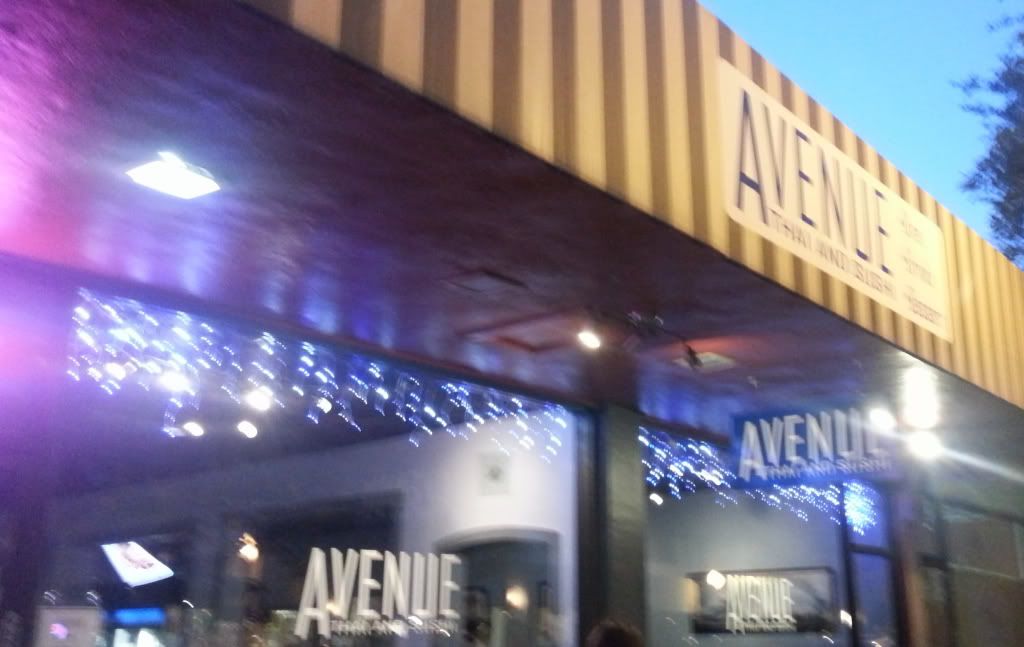 ((I apologize for this blurry picture - I will replace it with a better one next time we go))
Avenue Thai and Sushi looks like your average thai/sushi place...simple decor, booths and tables, and of course, a full, open sushi bar. But, the humble surroundings really allowed room for the food to shine. Something else that was pretty cool - they give you the option of forks or chopsticks or both right there on the table.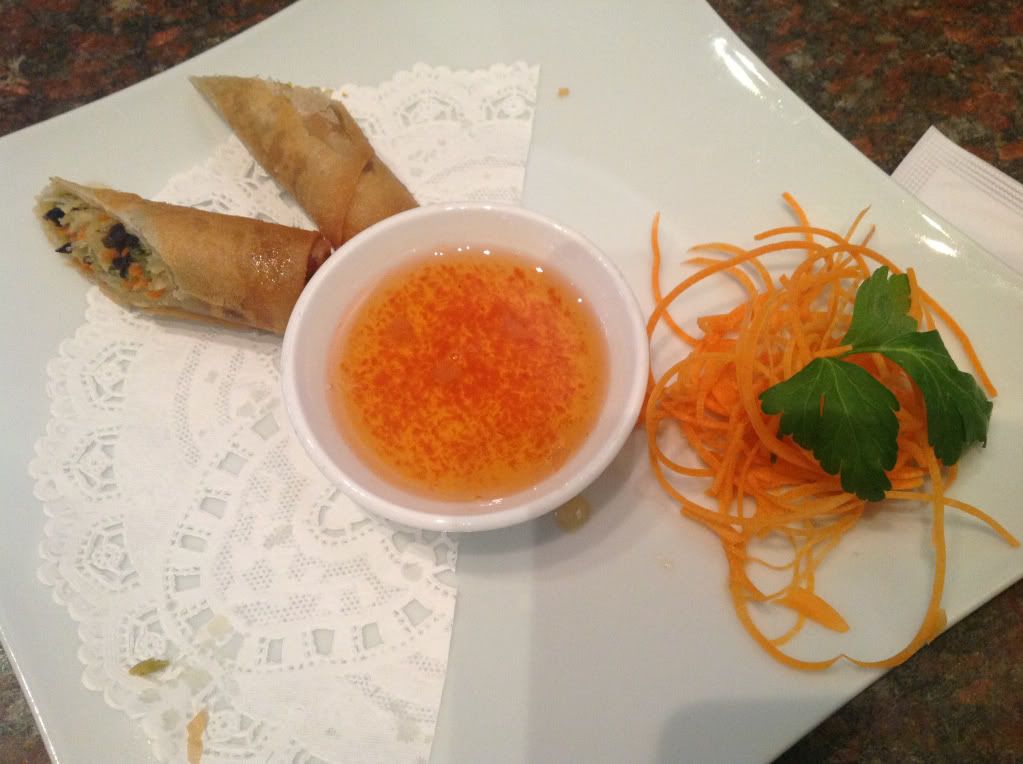 We started of with some traditional spring rolls.  There were six pieces but we kind of ate most of them before taking the photo, lol. The rolls were fresh, hot and crispy with a tangy dipping sauce. Delish!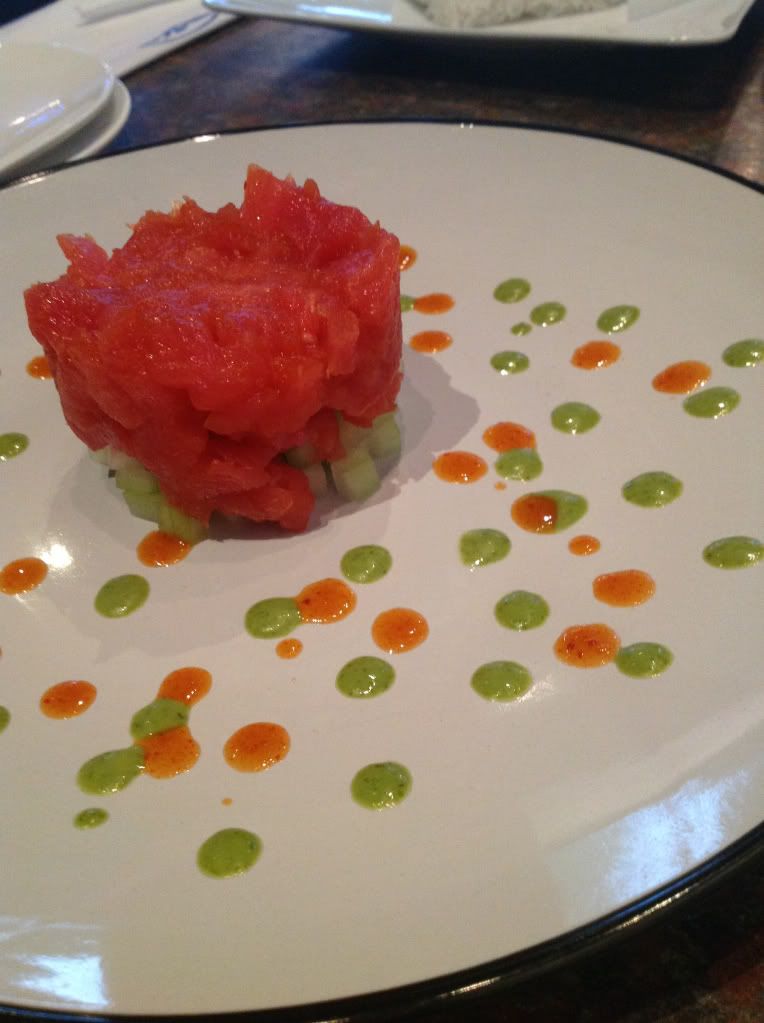 Since we had $40 to spend, I had to order more than my usual maki roll. I decided on the Spicy Tuna Salad because raw tuna is always awesome. The Spicy Tuna Salad is a neat little package of raw tuna chunks atop a bed of diced cucumbers, and dotted around the plate with green and orange spicy sauce. The tuna was fresh and soft to the palate, the softness was balanced with the crunchy cubes of cucumber. And dipping the tuna in the sauce dots gave it just the right amount of "kick". The portion was small, but it was a perfect side to the main event...the Crunchy Mango Sushi Roll!!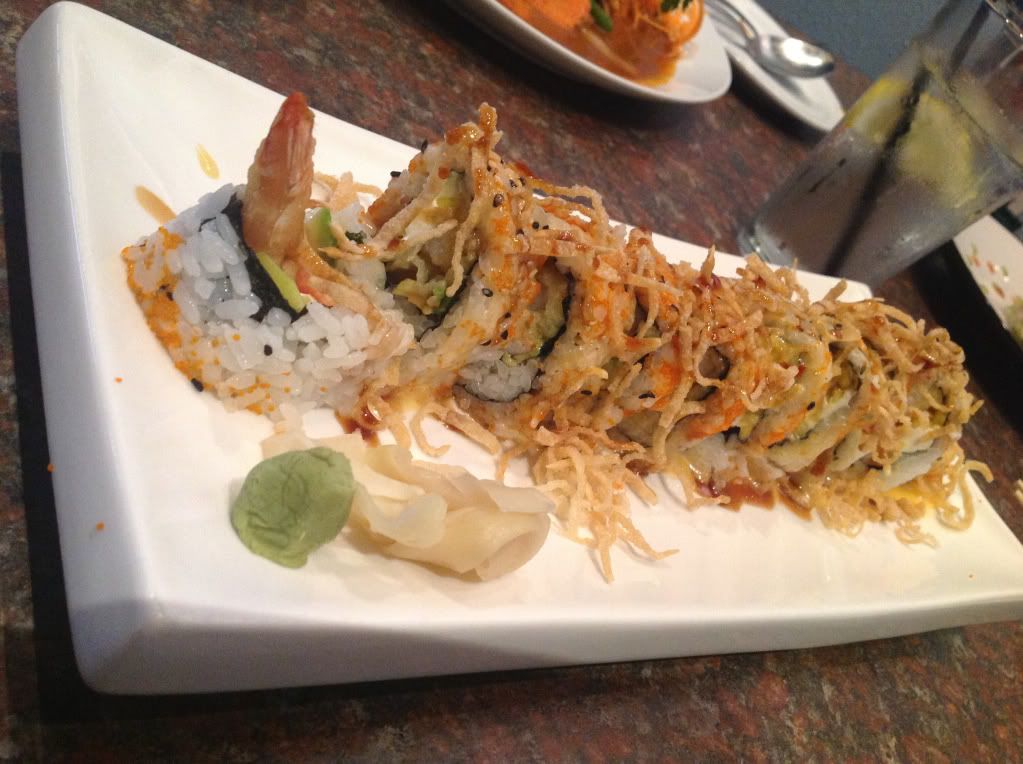 This roll is MASSIVE! On the inside - tempura shrimp, crab, avocado, cream cheese, sweet mango. On the outside - black sesame seeds, masago, and crispy wonton strips...all drizzled with both eel sauce AND their signature "Avenue" sauce. The sushi was BIG because of so much stuff going on, so I could barely fit the piece in my mouth, but ohhh man there was sooooo much flavor! The crispiness of the tempura shrimp and wontons combined with the suble sweetness of the mango and the eel sauce took me to sushi heaven...Oishi~!!
Bottom Line: Avenue Thai and Sushi has the right flavors with the right price! You will be amazed.
Get the location, hours and more info here ---> avenuethaiandsushi.com
((Just a heads up - Their website is under construction, so menus, etc are coming soon))